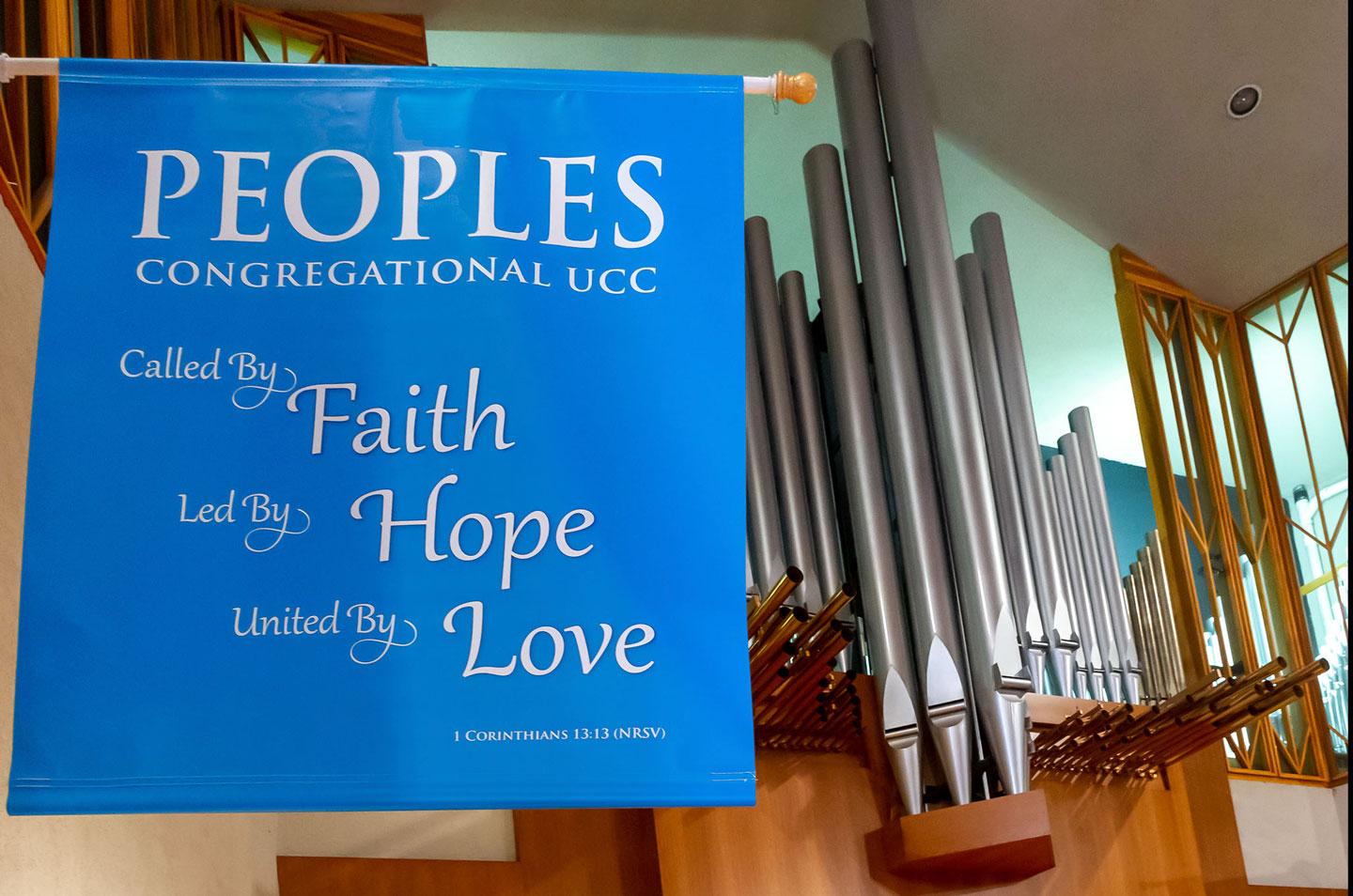 Vision of the Church
"… so we, who are many, are one body in Christ and individually we are members of one another." (Romans 12:5 NRSV) Peoples Congregational United Church of Christ is a progressive Christian community called by faith, led by hope, and united by love to build strong and committed disciples for Jesus Christ and to be a spiritual presence locally and globally in service to humanity. This vision is lived out through our focus on relationship with the Lord, which produces perspective; scholarship in study of the Scriptures, which produces focus; stewardship awareness in our giving and sharing which produces trust; and fellowship with our sisters and brothers in Christ, which produces unity. "Write the vision and make it plain on tablets, so that a runner may read it, for there is a vision for the appointed time…"
(Habakkuk 2:2-3 NRSV)
Mission of the Church
The Mission of Peoples Congregational United Church of Christ is:
To worship God and preach the gospel of Jesus Christ, and to labor for peace and justice so that the world may become the kingdom of God on earth;
To foster within its membership, by its teaching and its ministry, the spirit which was in Christ; To be to its membership and the community a source of spiritual refreshment, guidance, transformation, comfort and support;
To impress upon its membership the need for mutual loyalty and charity;
To teach its young people the noble traditions of its past; to point them to the possibilities of its future, and to give guidance in the building of Christian character; and
To educate and develop its members for consecrated and sacrificial service.
Covenant of the Church
We are united in striving to know the will of God as taught in the Holy Scriptures, and in our purpose to walk in the ways of God, made known or to be made known to us. We hold it to be the mission of the Church of Jesus Christ to proclaim the Gospel to all humankind, exalting the worship of the one true God and laboring for the progress of knowledge, the promotion of justice, the reign of peace, and the realization of the beloved community. Depending as did our fathers and mothers upon the continued guidance of the Holy Spirit to lead us into all truth, we work and pray for the transformation of the world into the City of God; and we look with faith for the triumph of righteousness and the life everlasting.
United Church of Christ Statement of Faith
We believe in you, O God, Eternal Spirit, God of our Savior Jesus Christ and our God, and to your deeds we testify:
You call the worlds into being, create persons in your own image, and set before each one the ways of life and death. You seek in holy love to save all people from aimlessness and sin. You judge people and nations by your righteous will declared through prophets and apostles. In Jesus Christ, the man of Nazareth, our crucified and risen Savior, you have come to us and shared our common lot, conquering sin and death and reconciling the world to yourself. You bestow upon us your Holy Spirit, creating and renewing the church of Jesus Christ, binding in covenant faithful people of all ages, tongues, and races.